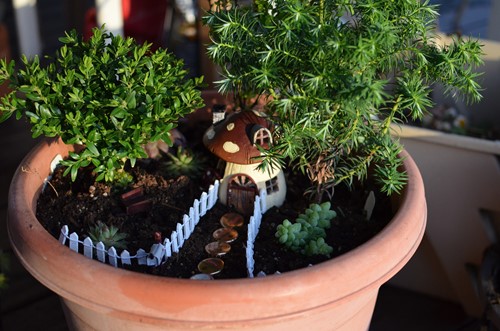 Fairy gardens are miniature gardens either planted in containers or in part of an actual garden. They typically feature small plants and decorative materials depicting a tiny scene or living space for "fairies" or other small imagined creatures. Some are purely decorative, while others are interactive and meant to be played with. Setting up a fairy garden can be a great activity for children and adults alike and can add great visual interest to a garden or outdoor living space.
Fairy gardens might seem like a daunting task to get into, even for those who already enjoy arts and crafts or gardening. After all, there are no rules — freedom of creativity can make starting any project seem difficult. Luckily, no matter the size or complexity, every fairy garden includes the same basic parts.
Containers
Unless you have a special corner of your yard or garden suitable for creating your fairy garden, you will need to start with a container. Popular choices of DIY containers include flower pots and wine-barrel planters. You can also start with an unused bird bath, tin buckets or small wash tubs. The most important things to think about in choosing a container are the size, shape and whether you'll need drainage. Depending on what type of plants you include in your garden, you may want so use a container with holes in the bottom or sides to allow excess water to drain.
Potting Mix & "Ground" Cover
Once you have your container prepared, you can begin adding the foundation of your garden. It's a good idea to begin with a layer of gravel or small stones at the bottom of the container to help with drainage. Then, add as much soil as necessary for your choice of plants — we recommend at least 6 inches. If you're going for a fairy garden without living plants, you can even fill the container with sand for a beach or desert theme.
To add additional texture and visual interest, you can add stones, bark and peat moss to cover the soil. Other common materials include sea shells, twigs or colorful glass beads. Arrange them according to your preference and see what looks the best for your garden.
Plants
It wouldn't be a garden without plants. Depending on the size of your container, you can have multiple plants or a single plant to serve as a focal point to build around. When choosing the type of plants for your fairy garden, make sure you think about sunlight and temperature in its location so that the plants can thrive. Low-growing plants that come in 2 to 3-inch pots work best and can be clumped together to create a lush environment. Flowers and fresh herbs are common choices, as are succulents and ornamental strawberries. Be creative, but leave some space for accessories and other features.
Accessories & Inhabitants
Addition of accessories and other decoration is how a tiny garden truly becomes a "fairy" garden. There are countless ideas and sources of inspiration for what items to include. You can even find tiny figurines and kits for building a fairy habitat at craft supply or garden stores. For additional options, you can even look at decorative items sold for home aquariums. Doll and toy accessories are an excellent source of inspiration as well. Building tiny houses, furniture or fences can be fun and affordable DIY projects using materials you already have around your home and garden.
It's up to you whether you want your fairy garden to include an actual fairy figurine or not. Some fairy gardens are built with the idea that the fairies are hiding and you just stumbled across their living space. Others include all manner of garden denizens, often arranged in scenes as to tell a story. If you haven't found your perfect fairy yet, try looking at hobby, toy and garden stores and many online stores dedicated to fairy gardens.
One of the best things about fairy gardens is their versatility. You have the freedom to make them out of virtually anything you want and can keep them indoors or outdoors. Building them can be a satisfying creative activity for people of all ages and a simple way to add a little magic to your home.